Helllllo October :)
It's still not quite feeling like Fall for me yet. It's not Fall until I've been to the State Fair of Texas
(coming up in a week and a half - whoo!)
. Anyway, I can't decide if I want to break out the spicy autumn scents, start baking with pumpkin, and put out the Halloween decorations yet or wait just a little while longer . . . We'll see.
This month was seriously ridiculous, but I still managed to make a few accomplishments.
Hair cut -
I made the appointment and went in for a consultation
(had no idea stylists did that)

. It's actually getting cut tomorrow, which is October and not September, but progress was made and the hair will be cut. That's the point after all.
Essential oils
- I'm finding out some interesting things. Some are encouraging and positive, while others not so much. I have a couple of posts in the works about my experience, but if you have any questions or more suggestions for resources please comment or email.
Investing book - I only made it through 4 chapters, but that's okay. I decided on 5 because a) it's a good number and b) 3, which is a better number, seemed like too little. Four seems to be a realistic but challenging amount, so I'll continue that in October.
Still working on - that DVD stack, the letters, and reconnecting
1.
Read 4 more chapters of my investing book.
2.
Finish reading the first Left Behind book and start Allegiant
(which comes out October 22)
!
3.
Get our patio furniture.
4.
Do the monthly things from my
101 in 1,001
:
bake something from Pinterest and memorize a new Bible verse - haven't decided which ones yet though
5.
Don't hit the snooze button a SINGLE time all month. That's going to be a challenge for Austin and me both. Does anyone else want to take the challenge with us?
6.
Finish setting up the guest bathroom and my vanity.
7.
Set up a prayer request spot.
8.
Have our family photos taken.
9.
Watch a football game at Cain and Able's.
10.
Answer 2 questions from
this list.
But seriously, who else is up for this?
Feel free to snag a button if you are.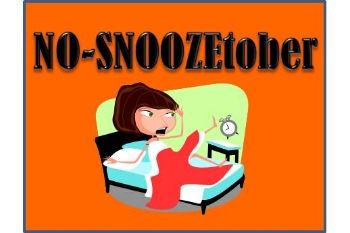 If you set monthly goals make sure to share them or a link to a post about them in the comments.
I would love to see what your plans are for October!